Silver Conn made Cavalier
Tenor Saxophone
Meet "Silver Cavalier"
Would make a great University of Virginia pep band instrument! How about a prime vintage silver 10M stencil at a fraction of the cost of a similar vintage silver 10M?
You are bidding on a Silver Cavalier Tenor Saxophone made by Conn. The serial number area states "96M" which is Conn's designation for the 10M stencil model on top, then "T" for B flat tenor model, then "9771", and a "L" for low pitch the modern concert pitch standard below that. Unfortunately, Cavalier seems to have used its own serial number sequence so I am uncertain of the exact year. I have seen other Cavalier Conn's with lower numbers that dated back into the twenties with the split bell lower tone holes. From the design and the original case I would date this sax from the late thirties into the early forties sometime. It has the 10M oversize bell for great projection and sound, but yet has much cleaner, simpler lines, for example no unsightly neck brace piece like with the 10M! This is clearly the best Conn tenor I have ever played, the first one that approaches the quality sound and projection of the better Bueschers and Martins! It has better refined highs and lows and it doesn't carry as much of the usual Conn air rushing sound mixed in as many of their later horns do. Also the silver really sweetens and strenghthens the sound and helps project better than lacquer horns. This is really the first Conn tenor I've been much impressed with! Cosmetically it is gorgeous as you can see. It truly looks as good as it plays. It's obviously the original silver neck with a new neck cork just applied and little finish loss which is mostly on the octave lever not the neck body itself. There are a few keys and key cups with a little finish loss as well. It's not that visible unless you are looking closely. There are no significant dents. There are maybe three or four smaller dings or ripples in the typical chairside bow area with maybe a couple of micro dings up toward the bell from the bow. There is a little typical scratching around the ring. There are a few of the typical small black pinpoints of finish loss that you get with older silverplate. These are defects in the original manufacturing process and not the result of wear. There is little or no typical wear on the usual keys. I can only find some finish loss on a couple left palm keys and one right palm key but it probably was from something other than playing like laying down and rubbing against the bottom or side of the case while it was being carried or being put in or being taken out. There are no obviously repaired posts or keyguards that I can see. There is only a very little finish deterioration around the tone holes and under the keys much less than normal. Original silver plate is intact in the 95% range, excellent for a horn this old. Look at the pictures and see for yourself. This horn was torn down, cleaned out, body and keys polished, body and keys separately treated with a powerful anti tarnish substance (better than a clear lacquer as it is transparent and non inhibiting sound-wise and doesn't peel or flake off with age), then rebuilt replacing all its original pads with Mark VI resonator style pads. This horn is well along through break in, but may need a more regular playing by its new owner to complete that.

Also included is the wonderful original silver plate body plug! This sax comes with an older style more closed type mellow mouthpiece and marked "T" silver ligature that may very well be the original one it came with. I played it for a few seconds and while interesting isn't what I would recommend for this horn unless you want very soft parler sounds. I have many new and used mouthpieces in stock available at additional cost. Also I am a Runyon reseller if one of their fine line appeals to the buyer. This sax also comes with its obviously original deluxe hard case with NASCAR land stickers, revealing this sax's time in the great volunteer state of Tennesse, that has seen better days but would be OK for shipping the sax and for light duty afterward. It probably should be kept for authenticity and a newer one used for active playing. I found that if you use this case you might want to get a small towel rolled up or a little pillow at the bottom to allow the sax body to better fit in the case and not move around as much.

Another note, this anti tarnish treatment on the entire horn I perform is extra work but should keep this horn cleaner and much more tarnish free for some years to come and I am the only one in the world I know of that does it!

Our guarantee & return policy.
See photos: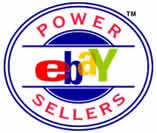 Buyer to pay actual cost for shipping and insurance. For shipping cost, email with your ZIP CODE. Overseas buyers please email prior to bidding.

We make payment EASY! We accept Master Card & VISA through Paypal (prefered method) or Bidpay, cashier's checks and money orders. US personal checks are accepted but item will be held until check clears. Payment is expected within 7 days.

I prefer PayPal, the #1 payment service in online auctions!